A Message from our President, Nicholas P. Gacos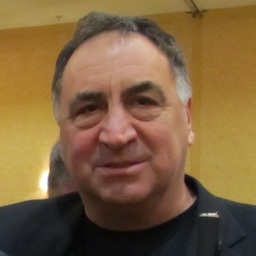 It is an honor for me to be President of the National Association of Blind Merchants and to be part of the National Federation of the Blind. In our journey together as Randolph-Sheppard entrepreneurs, we have faced many challenges. Through natural disasters, pandemics, terrorist attacks, government shutdowns, political divides, shifting cultures, social unrest, and a bureaucracy that tends to hold us back, we have persevered. Together, we continue to make a difference in what it means to be a blind entrepreneur in this country.
We have seen many changes – some good and some not so good. One of the most positive changes is the emergence of blind entrepreneurs as respected professionals within the vending industry as a whole. There was a time when the vending industry and its trade organization, the National Automatic Merchandising Association, paid little attention to us or our issues. Manufactures viewed us as a bunch of small operators and ignored our collective power. Many state agencies showed little imagination in the way they ran their programs. Branded concepts were fought by many state administrators and these same state agencies saw the organized blind as a pain with little to offer them. Potential blind entrepreneurs were being trained the same way they were 50 years ago.  Politically, we were a divided community and our power was fragmented. We had failed to harness our collective buying power.
I'm happy to be associated with an organization that has helped change all of that. Today, NAMA recognizes the impact we have on the industry as a whole. My election as the first blind person ever to the NAMA Board of Directors speaks volumes as does my being named the Industry Professional of the Year. NAMA was not just honoring me. They were recognizing all blind entrepreneurs.  We all benefit by joining forces on those larger issues that affect all of us. We helped the RSA Buying Group launch and today manufacturers are recognizing the collective buying power of all blind entrepreneurs resulting literally in millions of dollars in the pockets of blind entrepreneurs in the way of rebates.  We've assisted state agencies to think creatively.  We promoted partnerships with national franchises negotiating national deals with Dunkin' Donuts and Subway. We've supported agencies pursue lucrative military dining contracts. Today, state agencies see the value we bring to the table as evidenced by the fact over 40 states subscribe to NABM's training and technical assistance services. We helped bring the first ever national Randolph-Sheppard training curriculum into existence with our partnership with the Hadley Institute for the Blind.  We have set the standard for upward mobility training both in-person and virtually. Politically, we have flexed our muscles with a united front and have had a major impact on both the state and national levels including securing a $20 Million appropriation for Randolph-Sheppard in 2021 for the first time ever in the way of pandemic relief dollars for our struggling blind entrepreneurs.
But there is much that still remains to be accomplished. The number of Randolph-Sheppard vendors continues to decline at an alarming rate and we need to reverse that disturbing trend. We have federal agencies that refuse to comply with the law and deny opportunities to our blind entrepreneurs. The threat to the livelihoods of our guys at the interstate rest areas is real. We still have states that have not embraced the promise of the program. Some programs are being choked to death by lack of state financial support. We remain boxed into a system that only offers opportunity in food service and only in government buildings. Creativity is lacking as we refuse to get out of that box. We face challenges with healthy vending and accessibility issues. Yes, the challenges are many and can feel overwhelming.
I am happy to be associated with an organization that is prepared to take on these and other challenges and make a difference in the lives of blind entrepreneurs. Together, we will continue to advance our causes and help preserve and create opportunities for blind entrepreneurs everywhere.