EMERGING LEADERS PROGRAM
Meet NABM's Third Class of Emerging Leaders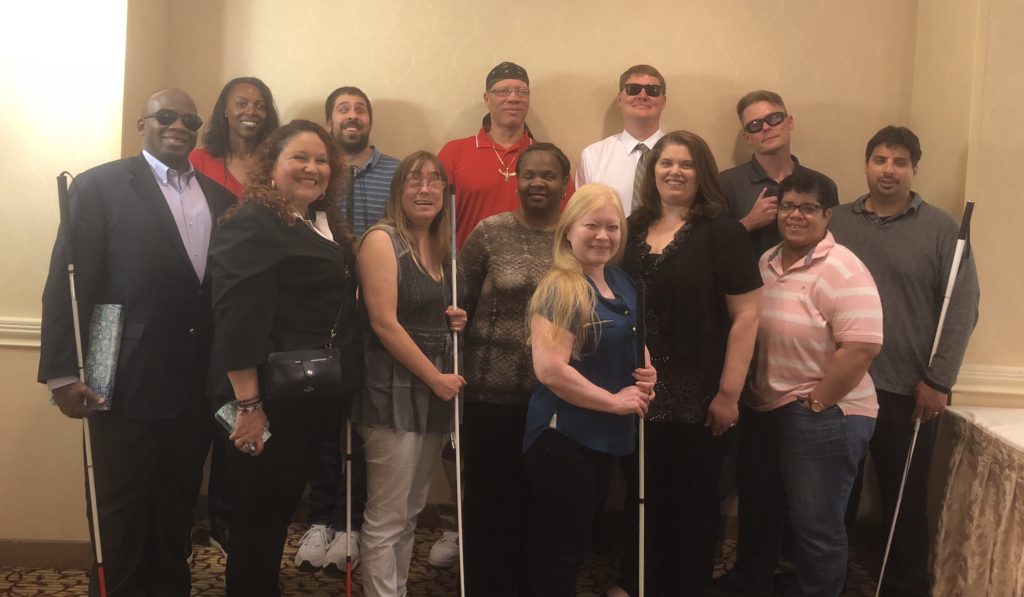 The National Association of Blind Merchants held its third Emerging Leaders Training class May 21-23 in Washington, D.C.  The training is designed for individuals who want to be future leaders in Randolph-Sheppard.  There were 13 trainees from 10 states.  To date, 43 would be leaders from 23 states have completed this training.
Meet the Class of 2018:
Scott Gehres – IN
Megan Homrighausen – AZ
Yvonne Reilly-Bachmore – NY
Roderick Roberts – WA
Karla Martinez – TX
Kenneth Landtroop – TX
Ivan Delgado Villa – NV
Beverly Anderson – SC
Guadalupe Steel – AZ
Tassie Thompson – MD
Miguel Rocha – NE
Lynn Florence – KY
William Robinson – NJ
The training featured former RSA Commissioner Dr. Fred Schroeder who delivered the keynote address on the first day.  Kevin O'Connor, a leadership consultant and college professor from Chicago conducted a half-day workshop on effective leadership.  National Federation of the Blind President Mark Riccobono addressed the group on the importance of advocacy.  There was also an outstanding session presented by John Pare and Gabe Cazares from the National Federation of the Blind on how to be an effective advocate.  Trainees also participated in the NABM Day on The Hill where they put their newly acquired advocacy skills o work and gained needed experience on how to advocate effectively.
Are you interested in becoming a leader and perhaps participating in a future Emerging Leaders class?  If so, reach out to Ed Birmingham, 2nd Vice President of NABM at ebirm18@wowway.com
The National Federation of the Blind knows that blindness is not the characteristic that defines you or your future. Every day we raise the expectations of blind people, because low expectations create obstacles between blind people and our dreams. You can live the life you want; blindness is not what holds you back.