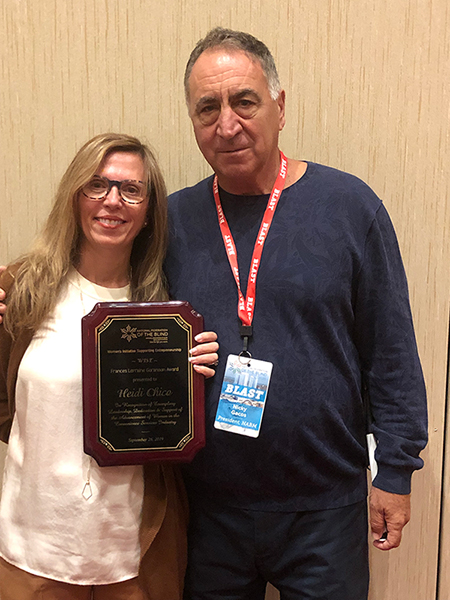 Atlantic City - Today, the National Association of Blind Merchants, a Division of the National Federation of the Blind, honored a true icon in the convenience services industry. Heidi Chico, a pioneer who has charted the way for future women executives in the industry, received NABM's inaugural Frances Lorraine Goranson Award.
An Iowa State University graduate, Chico is the CEO of the Wittern Group, a leading vending machine manufacturing company her grandfather founded in 1931. She has dedicated over three decades of her life to the family owned business. She has held various leadership roles with the National Automatic Merchandising Association including serving as Chair of the NAMA Board of Directors in 2018. She played an integral role in launching NAMA's WIN (Women in the Industry) Initiative.
Chico's success is predicated upon a very simple concept. "Don't ask anyone to do something you  aren't willing to do yourself, own your own destiny. "
Frances Lorraine Goranson, for whom this award is named, certainly owned her own destiny. She graduated from the South Dakota School for the Blind in 1938. She was aware of the Randolph-Sheppard Act which President Roosevelt had signed into law in 1936. She recognized the potential and set her sights on being part of the program. Two years later, she fulfilled that dream when she assumed management of a newly created vending facility at the Huron Post Office: thus, becoming the first known woman Randolph-Sheppard vendor in the country.. Goranson went on to become active in the National Federation of the Blind and in 1942 was elected to the NFB Board of Directors.
"Heidi Chico is an example of what women in our industry aspire to be and she is an inspiration to our women blind entrepreneurs," said NABM President Nicky Gacos. "She is a friend to the blindness community because of her unique insight and understanding of the important role blind entrepreneurs play in the convenience services industry today in this country."
Chico received the award after delivering the keynote address at NABM's Mini BLAST Conference which was held in Atlantic City in conjunction with Vistar's Northeast Trade Show. There were approximately 200 persons in attendance.
For More Information Contact:
Nicky Gacos, President
National Association of Blind Merchants